Meet Our Donors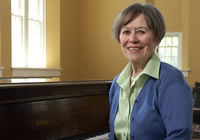 Click above to listen to Meme's story.
Meredith "Meme" Parsons Salisbury '56 P'86
Honoring the Mentor Who Launched a Career
Middlebury's music department was tiny when Meredith "Meme" Salisbury '56 was a student. There were only two professors, and she was one of three music majors in her class. Nevertheless, her Middlebury experience awoke her passion for music and opened the door to a 17-year career as a soprano in the chorus of the Metropolitan Opera. It was Professor Jean Berger who set her on the path she has traveled through life, she says.
Berger was more than a teacher to Meme; he was a friend, adviser, appreciative audience, and eventually a professional colleague. So when her mother, Alice P. Parsons, decided to make a gift to Middlebury in 1997 in honor of Meme's late father, Chester G. Parsons, Meme suggested directing it to the music department. That gift established the Jean Berger Discretionary Music Initiative, to be used at the discretion of the chair of the music department to enrich the musical life of Middlebury College Students. "I didn't want the fund to be used for things; I wanted it to go to experiences for the kids," Meme says.
Since then Meme has made annual gifts to the fund, and now Meme has ensured that it will continue to benefit Middlebury students far into the future. She has included Middlebury in her will and directed that her gift be added to the fund that honors both her father and her Middlebury mentor.
Back to All Donors