Meet Our Donors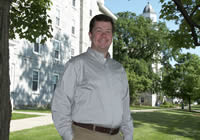 Click above to listen to Tom's story.
Thomas Chambers '91
Chair and Associate Professor of History at Niagara University
Director, M.A. program of Interdisciplinary Studies
Research and Teaching Interests: the American Revolution, the early Republic, war and memory, commemoration and public history.
Sharing a birthday with Benjamin Franklin, Thomas Chambers has nurtured a fascination with history since high school. However, he credits Middlebury College's exemplary faculty, including Professors Barbara Bellows and John McCardell, with transforming his subject of choice into a focused academic passion.
These mentors not only guided the undergraduate as he immersed himself in historical narratives, but also served as role models for the professor he would eventually become: "Hopefully I inspire my students half as much as John and Barbara inspired me." And long after graduation, he counted on his professors for their counsel and their continued interest in his career progress.
While working to establish his tenure, Chambers read about the Gamaliel Painter's Cane Society and decided to pledge a portion of his retirement as a bequest to the College, considering his gift "a way that at an early age I could show my dedication and appreciation." He looks forward to the generation that will reap the fruits of his contribution: "I benefitted from a generous aid package during my undergraduate years and hope that other students will have similar opportunities."
Chambers certainly exemplifies that aphorism-by the Founding Father with whom he shares a birthday-"An investment in knowledge always pays the best interest."
Back to All Donors