Gamaliel Painter's Cane Society
What is the Cane Society?
Click here for Middlebury's legal name and Tax Identification Number.
---
Click here to inform us if you have already included Middlebury as a beneficiary of your will, retirement account(s), life insurance policy, or trust.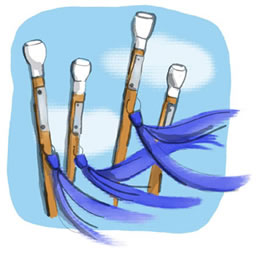 Raising Canes:
What began as a bequest has become an endearing Middlebury tradition.
by Sarah Franco '08 | Illustration by Marian Richardson
The Gamaliel Painter's Cane Society recognizes Middlebury alumni, parents and friends who support the College through life income gifts and by including Middlebury in their estate plans. Over the past decade, this group has grown significantly. Today, we have more than 1,300 members.
Cane Society members receive a special pin which recognizes their gifts and bequest intentions. They also receive newsletters about College events and are invited to an annual gathering on Reunion Weekend.
The College wishes to express its deepest appreciation to members of the Society for their commitment to Middlebury and for carrying on the legacy of Gamaliel Painter.
Who was Gamaliel Painter?
Gamaliel Painter (1743-1819) was a forward-thinking fellow. He helped found Middlebury College and left a bequest that literally saved the fledgling school. He also bequeathed his steel-tipped walking stick with a deep blue ribbon, a replica of which each graduating Middlebury student receives.
A jurist, Painter was deeply involved in Vermont's early years as an independent republic (1777-91) and as it joined the United States.
Captain and quartermaster in the Revolutionary War.
Delegate to the 1777 convention of the Vermont Republic
Representative to the Vermont legislature
Judge of the county court
Member of Vermont's first U.S. constitutional convention, 1793.
Built first house in Middlebury, 1773.
Left $10,000 and his walking stick to Middlebury, 1819.
Memorialized by Painter Hall (originally West Hall), the oldest college
building extant in Vermont.